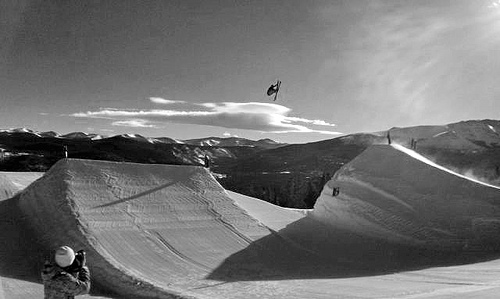 Breckenridge: Park Shoot with Matchstick Productions
This week I'm in Breckenridge, Colorado on a terrain park shoot with Matchstick Productions (MSP). We're here shooting with athletes Bobby Brown, Jacob Wester, Russ Henshaw and Gus Kenworthy. After 2 days of shooting, we've been able to nail some really solid shots. However, as with any shoot outdoors, success is heavily dictated by the weather. While the last 2 days were sunny and amazing, a front rolled in last night and it started snowing. It hasn't shut down production, but it has definitely slowed the pace a bit. But, it's this weather delay that's giving me a few minutes to post this to the blog, along with these 2 shots.
The shot above shows Booby Brown airing a transfer gap with me in the bottom left frame shooting (photo courtesy: Austyn Williams). Shot below shows the cannon rail with a cherry picker positioned overhead.
Will try and post a few more shots (not from an iPhone) when I get a little more free time. But for now… enjoy!