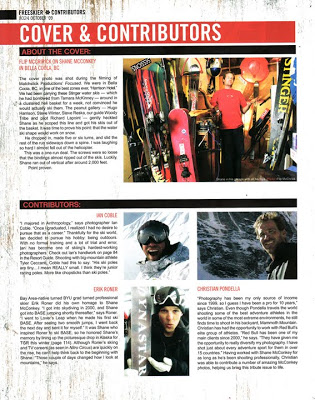 Freeskier Magazine Contributor Bio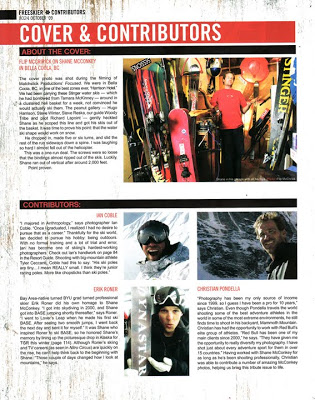 This little "shout out" from Freeskier Magazine ran about a month ago, but I wanted to upload it to the blog before I forget.
It's nothing super special, but it's always an honor when any of the magazines I work with want to call extra attention to me and my work.
It's an even bigger honor to share the page with one of my long time idols, the late Shane McConkey. I wish I could have had the opportunity to shoot with Shane, but I'm glad if nothing else, I got to share a few minutes with him over a cup of coffee at Squaw Valley two years ago. Thanks Shane, for being you, for all that you did for the sport of skiing and for the impact you had on my life and so many others. You will be missed.
Anyways, I apologize for getting off track for a moment. I want to give a big thanks to Shay Williams, the photo editor at Freeskier, for putting this together and for calling me "one of skiing's hardest working photographers"… what can I say, I'm flattered. Now I guess I should get back to work so I can keep that reputation.