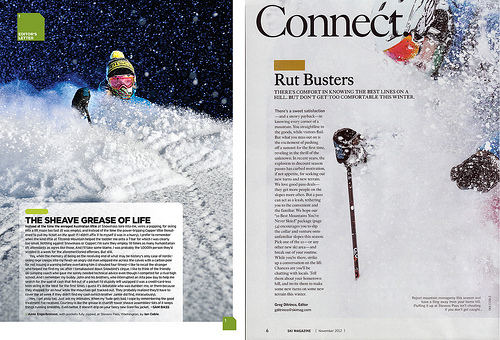 Newly Published Skiing Images
Every once in a while, I like to showcase some of my most recent images that have been published in the magazines. Below are a few of my favorites from the start of the winter editorial season. Enjoy!
Amie Engerbretson scoring the "Letter from the Editor" in both Skiing Magazine and Ski Magazine
Both shot at Stevens Pass, Wa.
Powder Magazine, December Issue, Shooting Gallery, 1.5 page spread
Bryce Phillips in the Alpental Backcountry
Stevens Pass Resort, 75th Anniversary Poster
Tyler Ceccanti in the Stevens Pass Backcountry
Ski Journal, Kaya Turski Profile
Coast Mountain Culture Magazine, Parting Shot
Tyler Ceccanti at Crystal Mountain, WA