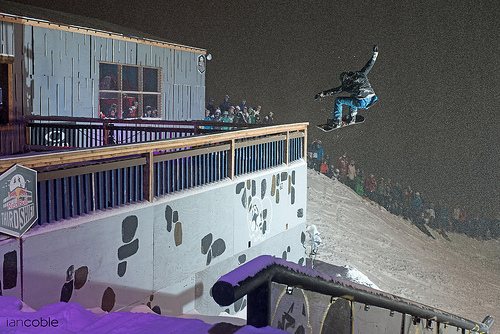 Red Bull : Third Shift at Snoqualmie Summit
Last week I got called up by Red Bull to shoot their upcoming ski and snowboard event, Red Bull Third Shift. Held at Summit at Snoqualmie, the event is a slopestyle competition that is held on a custom designed park built specifically for the event.
The venue looks a lot like an abandoned ghost town from the old west, that's been dropped onto a ski slope.
Events are always tough to shoot, as the photographer has little to no coordination with the athletes. Instead a more editorial/ documentary style of shooting comes into play. However, as the event was held at night, we had to resort to utilizing strobes to light the venue. Not an easy task given the size of the space.
On top of that, mother nature decided to throw us a curve ball, and dropped a full fledged blizzard on us during the event. It made for some great photos, despite the tough working conditions though.
All in all, the event went off perfectly. Tons of spectators braved the weather to watch the event. (It probably didn't hurt that there was a full bar built into the venue to help draw a crowd). I always like working with Red Bull… I never know what they're going to ask me to shoot next.