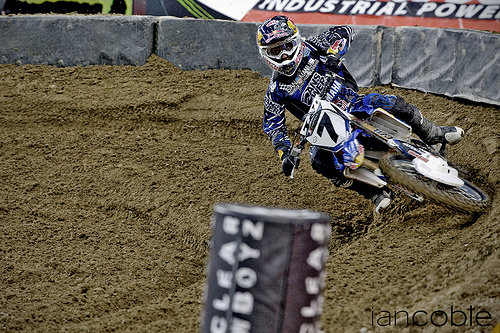 Sorry, I've Been Busy! But Here's a Sneak Peak at What I've Been Up To
Sorry for the lack of correspondence recently on the blog. I've been busier than a one legged man in an ass kicking contest lately. Lot's of shooting and time spent in production mode over the last two and a half weeks. But these are great things and I'm excited with the work that we've been working on and what we've got slated for the very near future.
While I can't yet share the final images from these shoots, I can share some of the out-takes from this past Saturday's shoot of the AMA SuperCross at Qwest Field. A nice and muddy shoot to say the least. I'll be chipping dirt out of my camera for some time to come.
Photos above are of Red Bull athlete James Stewart exiting a corner during qualifiers and a discarded goggle tear off laying on the muddy track.
Enjoy!