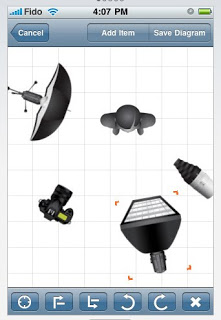 Strobox iPhone Ap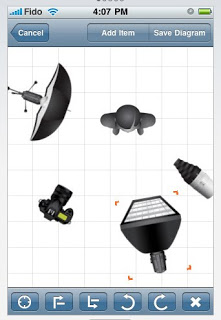 I just heard about this from Strobist last night. (No, there's no connection to Strobist… just a coincidence.) The ap allows you to create lighting diagrams by placing various light sources in the field. A cute little drop down menu allows you to place models, soft boxes, umbrellas, strobes, etc… And when your diagram is complete, you have the ability to save or email your diagram.
Definitely a tech dork ap… but who am I kidding, I'm a bit of a dork, so I thought this was pretty cool. Beats drawing lighting diagrams on wadded up napkins or the back of my hand.
But to offer a critique of the ap, it could stand a few additional upgrades.
1.) The ability to scale the field of the diagram would be really nice. As it stands, the field is set at a certain size and does not allow the user to zoom out for larger scale scenarios.
2.) The field is set in a 2 dimensional view, and doesn't allow you to adjust the height and angle of light sources. A 3D option would be a nice addition.
3.) The ap does not allow you to make notes on a diagram, preventing you from inserting crucial data like light settings and exposure.
4.) The ap is set up for studio shooters, not location photographers. There is no sun on the drop down menu of lighting sources. If the user could edit the light sources themselves, it might make for an easy fix.
That's all I've got. I suggest checking it out… it's free! Here's a direct link to the
ap store
.