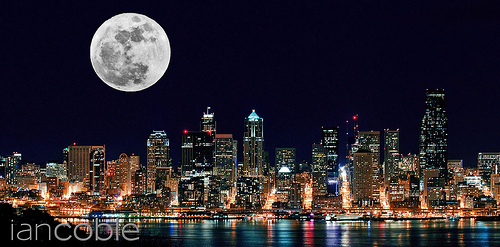 Supermoon in Seattle
With all the talk of the "Supermoon" last night, I decided I had to stay home and shoot some photos of this meteorological event.
According to Accuweather blogger Mark Paquette, a supermoon is a new or full moon at 90% or more of it's perigee (or closest approach to earth). This event doesn't occur often, as the next supermoon isn't slated until November 14th, 2016.
But science aside, last night's supermoon provided a great opportunity to photograph it. As anyone that's visited the Pacific Northwest knows, we don't often get clear nights here. And fortunately for everyone watching the sky, last night was incredibly clear over Seattle.
So, with my camera pack, tripod and beer in hand, I ducked out the door to the neighborhood park overlooking the skyline several times over the course of the evening. My patient wife, Karlee was a true sport and cooked dinner for me, while I dorked out with my camera. It was fun to see the huge number of people out trying to catch a glimpe of the moon.
Enjoy the pics!
And for my fellow photo-dorks of the world out there who may be wondering what these photos were shot with… I shot these images with a Nikon D7000 with an 80-200mm f/2.8 lens with a TC-20E III AF-S 2x teleconvertor. I shot with the D7000 instead of my trusted D3 for 2 reasons: 1. to test out it's low light capabilities (which I was pleased with) and 2. because the 1.5 crop on the sensor got me a little tighter on the moon than I would have with the D3.