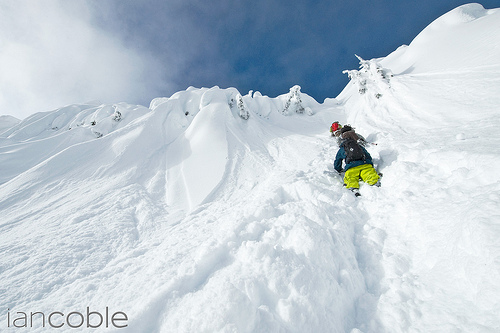 Backcountry Ski Shoot in the Cascades
A few weeks ago I went out to do a shoot with skiers Bryce Phillips in the North Cascade Backcountry. I've worked with Bryce for years and it was great getting a chance to go shooting with him again. On this occasion, we were headed out into a zone I've grown to love recently. Beautiful scenery, steep terrain, lots of features… it's perfect. And things looked great on this day. It had snowed about a foot the night before, we had a few great friends along with us for the day and it was completely clear and blue as we left the car.
However, three things that we hadn't counted.
1: the snow was far deeper than we had anticipated. It took us a full two hours to get to the zone, when under normal conditions, it's about a half hour.
2: the snowpack was a little on the unstable size. The spines would be relatively safe, but anything in the open was going to be out of the question. We'd triggered a couple of sympathetic slides (avalanches that occur at a point away from your location, but that are caused by your weight on the snowpack) on the hike out. So, we'd have to be extra careful.
And 3: as we continued our trudge out to the zone, the clouds were beginning to roll in… fast.
However, after all the work, it totally paid off. The resulting shot of Bryce dropping in on spine is one of my favorite shots of the year. While I can't currently share that image with you, I am at liberty to share the video clip from Bryce's Contour POV camera that he was wearing. I'll post the image on the blog as soon as the embargo has lapsed… but I'm sure you'll like it.
A side note, you may ask why we were skiing on a day where we knew the avalanche conditions were less than favorable. To answer that question… because you occasionally have to deal with less than favorable conditions when shooting. That's not to say we were being reckless or taking unnecessary risks. Far from it. On this day, we checked the avy forecast, we hiked along ridge lines and along tree groves, we had all of our backcountry gear with us and we stationed 2 people running safety from protected vantage points to watch over the others at any time skiing was taking place. While you can't take all the risk out of traveling in the backcountry, there are steps you can take to minimize that risk. Be safe out there.