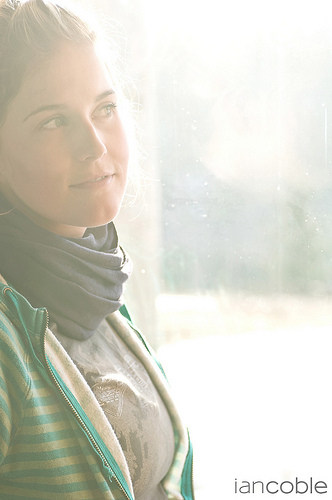 Remembering Sarah Burke
This has been a tough week for the ski industry. We lost an amazing person. Sarah Burke was so many things to this industry and the people that call it home. I've been trying to find the words the last few days to post about her, but it's tough to put my thoughts onto paper.
Rather than try and explain all of her accomplishments, her contributions to the sport or what she meant to everyone, I thought I'd share a story.
I met Sarah for the first time back in 2007. It was one of the first major commercial shoots I had ever been on in my career as a photographer. It was a 2 week heli ski trip in Terrace, British Columbia with Matchstick Productions. To say the least, I was nervous as hell. I was slated to work with some of the biggest names in the industry on this shoot. Names I had read in magazines and seen in movies for years. Now I was supposed to be the one shooting them. While I was honored and stoked at this opportunity, I was a nervous wreck the first day.
As I walked in the door of the lodge and set my gear down, there was Sarah. I'd seen her in competitions, movies, magazines and ads, but up until that moment, she was just a name. Without hesitation, she jumped right up, walked over and introduced herself with a big smile. I'm pretty sure I stuttered back a nervous "nice to meet you". Sensing I was new to the crew, and a little nervous, she went out of her way to talk to me and make feel like part of the group. She asked questions, told stories and joked around with me and everyone else. I can't tell you how that simple action helped to set my nerves at ease. Because of her caring nature and wanting to make sure everyone was comfortable and happy, I quickly calmed my nerves and was able to be myself… instead of the stumbling newcomer. It's amazing what even the tiniest of gestures can do though.
But that was just who Sarah was and it's what made her so incredible. She was always friendly and outgoing and made you feel good about yourself. I saw her do this with all her friends, and even her fans that would come up to ask for her autograph. She was truly a class act.
I feel blessed to have gotten to know Sarah on that trip to Terrace and on the numerous occasions I got to work with her after that. Her impact on the sport will never be forgotten. But even beyond her impact on the sport of skiing, is a lesson I think we can all learn from… to be more like Sarah. To welcome those around you, to be friendly and outgoing, to make a difference. The world is a better place for having had Sarah in it, even if she was taken away from us all too early. I can only hope to try and live my life in a similar manner that helps to enlighten and enrich the lives of those around us.
My thoughts and prayers go out to her family and her husband Rory. My deepest sympathies.
And to Sarah, thank you again for being such an incredible human being. You will never be forgotten. Rest in Peace.
Below is a beautiful video tribute that's been floating around the internet. Definitely worth the watch.
A Sarah Burke tribute video. from Downtofilm. on Vimeo.