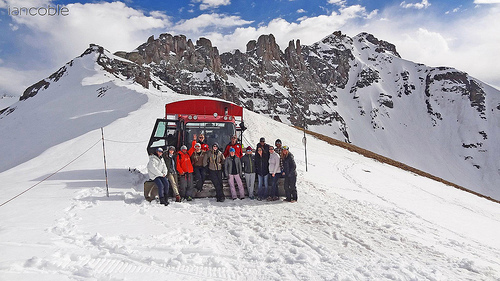 Revo Sunglass Shoot for Factory Design Labs
(The crew at the base of Palmyra Peak in Telluride)
Last month I had the great opportunity to shoot a commercial campaign for Revo Sunglasses with their ambassador Jimmy Chin. Teamed up with the amazing people at Factory Design Labs, we had an awesome six day shoot in Telluride, CO and Arches National Park, UT.
While I can't yet share any of the images from the campaign, I can show off a few of the behind the scenes images from the week (courtesy of my assistant Pat… thanks buddy!).
(Everyone waiting for the light to"pop" in Arches National Park)
A big thanks to the folks at Revo and Factory for working with me on this. Additionally, a huge thanks to Jimmy Chin for all his hard work. Jimmy is an extremely talented photographer and athlete and it was an absolute pleasure to shoot with him. And finally, a huge shout out to my crew for kicking ass and taking names.
Will update the blog and website later with the finished campaign once it's available.
(Shooting in Telluride)
(A shot from Jimmy's perspective: via his Instagram Account. (Copyright: Jimmy Chin)